<< Services
Above Ground Tank Installations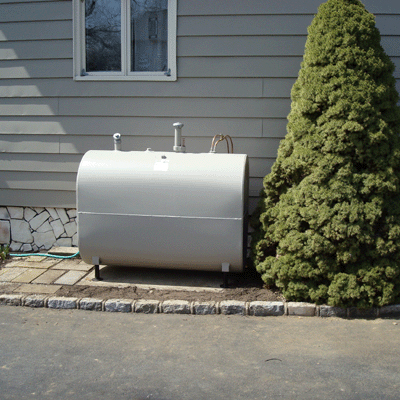 Oil tank installation consists of either above ground, or under ground tanks. NorRoc Enterprises offers only state of the art tanks with the newest technology. All of the tanks we install come with a 10-25 year warranty offered by the manufacturer and are available as either standard single walled or single walled – double bottom. We can also provide the latest in double walled and 2 in 1 safety tanks. Our above ground tanks range from 120 to 330 gallons and are horizontal or vertical.
These tanks can be installed either inside or outside of the home. Multiple tanks can also be connected together to increase storage capacity up to 660 gallons of fuel oil.
Our installations are second to none, using a whistle vent alarm and a site gauge to show the oil capacity. The fill & vent lines are 2 inches in diameter, providing the proper ventilation and minimizing pressure build up during deliveries which could possibly damage the tank. All tanks and associated piping are air tested prior to installation and all of our return and suction lines are secured at appropriate intervals to minimize movement and future problems. Our highly trained installers are equipped to install oil tanks above standard building code requirements whether the township requires an inspection or not. Extensive time and effort are placed into our installations to assure a satisfied customer.
Under Ground Tank Installations
The under ground tanks NorRoc Enterprises installs, which are steel with a fiberglass coating, are the best in the industry. They range from 300 gallons on up and also carry a 20-30 year warranty from the manufacturer. We also can specify and install STIP 3 tanks. These tanks are installed in an 8-inch bed of gravel for proper leveling and drainage. Just like our above ground installations all black pipe will be painted to minimize rusting. We also use 2-inch diameter on fill & vent pipe for minimal tank pressure with flare fittings on all connections to ensure a tight seal and a whistle vent alarm to eliminate delivery overfills.
For more information on the tanks we use, please visit the manufacturer's website: