<< Services
Tank Removal Process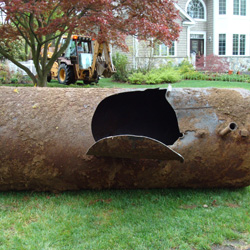 For many years, our team has been safely removing all types of Petroleum Underground Storage Tanks. Our staff will work with and for you to assure that this process goes as quickly and smoothly as possible. If you are moving into a new home, converting to a new above ground oil tank or would just like to remove a tank no longer in use, NorRoc is the company for you!
Before any work is done, we will visit your property, at no charge to you, to perform a site inspection. This will allow NorRoc's Technician to look at the location of the tank and give you the best price to remove the tank. Once we have visited the site, we will work swiftly to send the proposal to you. Once you accept the proposal we will contact your township to obtain all of the proper permits and schedule an inspection. At the time that the tank removal is scheduled we will also take further precaution by having all underground utility lines marked out to prevent any damage of sub-surface lines.
The soil above the tank will be excavated, the tank will be cut open, entered, and cleaned in accordance with all applicable regulations. Once the tank has been thoroughly cleaned it will then be removed from its location in the ground. The tank will be inspected for any holes by our staff and a township official. The ground surrounding the tank and the soil under the location of the tank will be inspected for any discharge. Once the tank has been inspected and cleared for recycling, the excavated area will be backfilled with the previously excavated overburden and clean fill material to slightly above grade level. Our office staff will then submit the proper documentation (receipts, disposal tickets) to the township in order to allow the township to close out their permit file and a formal copy of any and all paperwork will be sent to you, the customer, to retain for your personal records.
In the event a leak is discovered during the process, NorRoc's staff are fully trained to handle the situation. All proper notifications will be made, and then a new process, remediation, can begin.